Thanks for printing! Don't forget to come back to In His Image for fresh articles!
Laser Tattoo Removal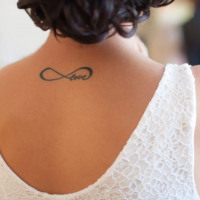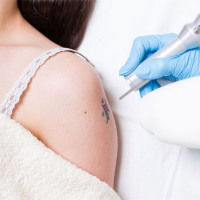 Remove any unwanted tattoo and start taking pride in your skin again. There's no scarring, and it will appear as if you never had a tattoo at all.
At In His Image Med Spa, of GeorgiaMedSpa, (formerly known as Georgia Laser Tattoo Removal), we understand why you might be considering tattoo removal. Around a quarter of American adults have a tattoo, but your body art might not meet your needs forever. When it's time to remove that tattoo, laser technology offers an effective solution for all skin types and for tattoos of all shapes, sizes, and colors.
Now you can say goodbye to unwanted body art. Laser tattoo removal is safe and affordable – and most importantly...it works!
Since, we are invested in your satisfaction in every way, our Medical Director and State Certified Expert Laser Specialist have both trained on ALL of the latest in Laser Tattoo Removal Technology including the Picosure, Picoway, Picosecond, Combio RevLite, Astanza-Trinity and the Quanta. If it is Laser Technology, we have reviewed it, tested it and trained on it in order to make the best selection for you and your Laser Tattoo Removal.
Being the Leading Experts in the Southeast, we take our work very seriously so you can rest assured your tattoo laser removal will be a success. Ever since the advent of the Q-switched laser, the leading way to remove tattoos is with a laser, no longer is either dermabrasian or surgical excision being utilized routinely for tattoo removal. And anything less than a Q-switched laser is unsafe to use for tattoo removal.
Being the experts in laser tattoo removal, we were here before Dr Tattoff blew into town and we are still here long after Dr Tattoff left. We are committed to our Laser Tattoo Removal clients and we work to get your tattoos, irregardless of the color, removed every time. Investing in the technology to remove all color tattoos in all skin types is key and we have this technology here for you. At your Free consultation, we will be looking at colors in your tattoo, age of your tattoo and varying factors to pick the wavelength or wavelengths needed for your tattoo removal and from that either a Ruby, Nd:YAG, and/or an Alexandrite laser will be utilized and again all at faster speeds of nanoseconds or picoseconds to offer laser tattoo removal safely and effectively every time. And, we are well versed in all the varying techniques in the field including the R20 method, in which we led the way in utilizing this technique for our patients in the Atlanta area.
Pricing
We base tattoo removal packages on the size of the tattoo you want to remove. Prices reflect small/medium and large tattoos, and we offer discounts for multiple tattoos treated at the same time and for packages of laser tattoo removal sessions.
With sessions as low as $200, you can take the first step toward removing that unwanted tattoo right away. We tell you the price during your free consultation, so you know exactly what you will pay before making a decision, and doing this for numerous years our estimates for number of treatments required are usually accurate,too.
Special Offers
Tat B Gone Package Special
Buy a Package of 4 and receive an Extra Treatment FREE. Great Savings in addition to our Affordable Prices
The Latest, Most Effective Technology
In His Image Med Spa uses the FDA-approved Quanta Q-Plus C Laser System. Thanks to this cutting edge system, we can remove tattoo ink of any color. Only minimal after-care is required.
We also offer the advanced R20 tattoo removal method, which allows for multiple treatments during a single office visit!

Quanta Q-Plus C
The most advanced tattoo removal technology available.
Frequently Asked Questions
Can you completely remove a tattoo by laser treatment?
Utilizing the Quanta Q-Plus C Laser System, that is a combination of a Q switched laser plus a Ruby Laser and Nd;YAG 1064, and 532 , which translates to say we have it all in this one laser. ALL Colors may be removed by this one laser tattoo removal system, therefore eliminating the need to go to two places to be rid of the tattoo with more colors in it.
Being the most up to date in technology indicates you have the best chance of complete removal, however, there are many factors involved in removing tattoo ink. Sometimes a tattoo may be completely removed in 4-5 sessions and others may be lightened but not completely gone. Our laser specialist and Board Certified medical director is totally dedicated to laser tattoo removal and will be honest and up front with you on the likelihood of complete removal and estimated number of sessions.With many years of experience, the estimation is usually very accurate.
What is the cost of laser tattoo removal?
The best way to determine the cost is to come in for a Free Consultation, where our expert laser specialist can look at the tattoo, its size, its location on your body, and from this examination can give you a more precise idea of the cost for complete removal. Tattoos are classified by us as basically either small/medium or large size. The cost for one laser tattoo removal session of a small/medium tattoo is $200 and the cost for a large tattoo laser tattoo removal is $300. However, we do offer discounts for multiple tattoos removed during the same session as well as we sell packages of laser tattoo removal treatments at significant savings.
Why should I choose to have my laser tattoo removal done here?
Laser Tattoo Removal revolves around 3 factors: 1.) Laser Equipment 2.) Laser Operator 3.) Laser Tattoo Removal Experience
First you need the Laser Technology that is the best, FDA Approved, And can remove ALL Colors safely...our Quanta Q Plus C Laser Tattoo Removal System is simply the best as it does remove ALL Colors safely every time. And, here we invest in our technology. It is not rented but purchased so you won't be seeing a different laser here everytime you come in. Also, we have our Laser Tattoo Removal System serviced here on site routinely. These systems are very complex and precise instruments of technology and the moving of lasers from location to location for either use or updates can greatly impair the expected results. Therefore, we made a major investment in our system and its' routine maintenance and updates. And, we aren't going anywhere....we have invested for your care and we are here to stay.
Next, the laser operator is most important, because it needs to be the person that has gone the extra mile to understand laser tattoo removal technology and who knows the laser technology equipment they have to use in front of them, inside and out and who has lots of experience with the laser they are using.
This brings us to experience, just like anything else really...experience is the best teacher. One can learn alot from a text book on laser tattoo removal but the hands on day in and day out experience is the factor that separates out good from great. The Laser Specialist here has trained with leading specialists in the field of laser tattoo removal from around the world. He is licensed by the state of Georgia and he is invested in laser tattoo removal every day as a career. He has been here at GeorgiaMedSpa since its opening and he is committed to serving here. And, both Laser Specialist and Medical Director at In HIS Image have been trained in ALL the Laser Technology utilized for Tattoo Removal from the PicoSure to the PicoWay, all PicoSecond, and all Q-Switched lasers including the Hoya Combio RevLite, the Astanza-Trinity and the Quanta. The First Laser Service Ever offered at In HIS Image of GeorgiaMedSpa was for Tattoo Removal. The other services of Laser Hair, Vein and Age Spot removal were all added subsequently.
When it comes to Laser Tattoo Removal, In HIS Image has Superior Experts in the field leading the way in Atlanta and in the Southeast and staying on the cutting edge of technology in laser tattoo removal.
Should I expect to feel pain?
During the procedure, most report the pain level to be equivalent to the pain they felt when the tattoo was placed on their skin. It feels a lot like a rubber band snapping the skin with each laser pulse. After the laser tattoo removal procedure, most will experience swelling in the area, reddening of the skin, and a blister will typically form. All of these side effects are temporary and will resolve and heal completely. You will be bandaged in the area after the procedure and complete home care directions will be given. Also, we encourage everyone to call us with any questions or concerns that may ever come up after a procedure as we are here for you ongoing not just for the time you are being treated with the laser. And our laser specialist takes the extra time with every client to answer any questios and always promptly returns all phone calls. With a caring, compassionate Medical Director and State Certified Laser Specialist Expert, you will be taken care of from the time you first contact In HIS Image. Committed to our patients from the beginning, we will work to make this as comfortable for you as possible.
Who is your typical patient?
There is no one typical patient. We treat everyone who has a tattoo that they wish to have removed completely or that the wish to be lightened enough or a new tattoo to be placed there.
We have all ages to come in for laser tattoo removal treatments from all over the United States, and we have treated a few that have been visiting here from other countries. And, we are considered Leading Experts in the Atlanta area and the Southeast.
If under the age of 18 years, we do require a parent or legal guardian to sign for treatment.
Our laser tattoo removal system is so advanced that it removes ALL Colors in ALL Skin types safely and effectively.
Sometimes a tattoo is required to be removed for one to advance in their career or to join the military or police academy.
It may be a tattoo from a past relationship that has ended and like the relationship is over, the lasting sign of it with a tattoo of a name or a wedding band needs to go too.
Whatever the reason, we are here to help you accomplish your goal of laser tattoo removal and help you feel comfortable during the process at the same time.