Thanks for printing! Don't forget to come back to In His Image for fresh articles!
Cellulite Reduction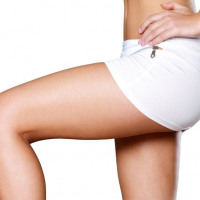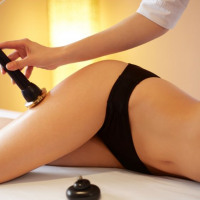 Significantly reduce unsightly cellulite with simple recurring treatments that smooth out areas of lumpy or dimpled skin. At In HIS Image, we offer cellulite reduction with our Dermosonic, an FDA-approved therapy, using radio frequency to disrupt fat cells and lymphatic drainage to flush them out.
There is no surgery or recovery period. When the treatment is complete, you can go about your day – no soreness and no visible cellulite.
Dermosonic treatments are pain-free, effective ways to say goodbye to cellulite. Let us set up a treatment regimen that fits your needs, budget, and schedule. With just a few applications, you'll be amazed as your cellulite begins to disappear – and stays gone!
Pricing
All pricing for cellulite treatment is based on the size and number of areas you need to treat. During your free consultation, we'll discuss the cost of treatment and the frequency of visits needed for maximum effectiveness.
We also offer Cellutherm body sculpting lotion, which visibly reduces the appearance of cellulite and improves skin resilience. For just $95, Cellutherm can maintain or even improve the results of dermasonic treatments.
Ask us about cellulite reduction packages and deals!
Frequently Asked Questions
What are the benefits of cellulite reduction?
Besides better-looking skin and greater self-confidence, many patients experience better blood circulation and decreased muscle tension.
Are treatments painful?
No! In fact, many patients consider it enjoyable. During dermosonic treatments, radio frequency waves "massage" your skin to smooth out areas of cellulite. There's no pain, no bruising, and no recovery period to speak of. Likewise, Dermosonic treatments are pain-free and effective.
How frequent are the treatments?
Depending on your needs, you might require weekly or bi-weekly treatments over an extended period of time.
Are results permanent?
No, results are not permanent. Typically, patients start to see results after several sessions. To prevent a return of the cellulite, you must receive treatment on a recurring basis.